RAIN CBD have transparency of their entire supply chain, from farm to product. They proudly can track Tier 1-4 including knowledge of their production suppliers. RAIN CBD believes in a fair workplace and supply chain. They have their supply chain regularly audited by a third party which includes audits on wages to ensure a fair morals and respect are upheld in the making of their products. For the conditions of RAIN CBD's suppliers, this is achieved through supplier visits to check safe working conditions by their appointed third party organisation.
1. What is CBD and what can it do for me?
CBD stands for Cannabidiol.
Cannabidiol is just one of over a hundred cannabinoids, as well as other botanical compounds, to be found in the cannabis plant. 'Hemp' refers to the cannabis plant strain from which we derive CBD as the primary ingredient of RAIN products.
CBD is non-psychoactive. There is both scientific research and substantial anecdotal and experiential reporting to suggest that CBD has beneficial effects in helping to alleviate anxiety and stress, reduce inflammation, improve mood and help facilitate better sleep.
2. Is it legal?
Yes.
CBD and all non-psychoactive cannabinoids are 100% legal in the UK. This is also the case in most countries now - although there are several notable exceptions so be mindful of these before travelling with RAIN products.
THC and CBN are not legal in the UK, as they are both psychoactive. RAIN products contain neither of these.
3. What does 'broad-spectrum' mean?
'Broad-spectrum' refers to the breadth of cannabinoids found in a given 'CBD' product alongside pure Cannabidiol itself.
4. How do broad-spectrum products differ from 'CBD isolate' or 'rich hemp extract'?
This is an important distinction to look for when seeking out high quality CBD products.
There is growing evidence (and long established industry consensus) that the most effective CBD products include not just CBD isolate but the other cannabinoids as well. This is known as the 'entourage effect'. It's why, although many products may market themselves as 'pure' CBD, this 'purity' represents an inferior product as no entourage effect is achieved. Also, the market price of the raw CBD materials themselves is significantly lower for CBD isolate than it is for the highest quality broad-spectrum distillate we use. 'Rich hemp extract' is terminology commonly used to denote isolate.
Consumers may also come across products which advertise themselves as 'full-spectrum'. This would technically mean that they contain every cannabinoid, including THC and CBN. As well as this being a legally grey area to fall within, even if products contain the less than the 0.2% THC many consider to constitute a legal product, that amount is arguably negligible. Even still, that amount represents both a business and consumer risk - particularly for drug-tested athletes and individuals with an understandable interest in avoiding consumption of psychoactive cannabinoids.
5. What are terpenes and how can they help me?
As well as the cannabinoids, there are also a different class of over one hundred distinct hydrocarbon compounds within hemp / cannabis plants and these are known as 'terpenes'.
Terpenes are abundant throughout the natural world so that the same terpenes appear in not only cannabis / hemp but also lemons, lavender, cloves and eucalyptus and many more. The list of plants, vegetables, flowers and fruits which share the same terpenes is very extensive. What varies is the concentrations therein and the combinations at play. It's the linalool terpene, for example, which predominantly makes lavender smell like lavender and it's the limonene terpene which makes lemons smell like lemons.
What many people may be surprised to hear is that they are also to be found in cannabis. Terpenes are best known for their role in aroma and flavour. However, in the same way as the auxiliary cannabinoids assist the efficacy of CBD, so too do terpenes and these too are associated with specific therapeutic properties - not just aromatic and flavour effects. Because at RAIN we are dedicated to producing the highest quality, all natural products we can, we have carefully developed our terpene profiles in order to:
amplify the therapeutic properties of the product's 'entourage effect' as far as possible
create aroma and flavour profiles using all natural compounds without including artificial flavourings or synthesised shortcuts
You'll find a list of every terpene used included in a product on its respective page on the RAIN CBD website, as well as an explanation of the potential benefits. (www.raincbd.co.uk)
All materials RAIN CBD use are fully-recyclable, cruelty free and the hemp thats used in their products are organically- grown.
RAIN CBD is committed to providing the highest quality, all natural and most sustainably-minded products they possibly can. This is why making sure all of their products are fully recyclable is a non-negotiable commitment. RAIN CBD actively seek out ways to reduce their environmental footprint and one way of doing this is ensuring their products are fully recyclebale. They assist in the recycling process for the product RAIN CLOUDS, allowing you to send them directly back to the brand, or at your nearest recycling point.
RAIN donate more than 1% of their company profit to charities each year, this is their way of giving back as a small business.
RAIN CBD is proudly PETA approved and cruelty free
For more sizing enquiries check out the sizing tab next to the product
The story behind RAIN CBD
RAIN is a London wellness brand curating the botanical world to produce best-in-class natural products. CBD can improve mood and sleep whilst alleviating stress, anxiety and inflammation - creating happier, more balanced lives. Every product witin their collection is the result of RAIN's uncompromising rigour, dedicated research and zero compromise on issues surrounding sustainability and being a responsible business.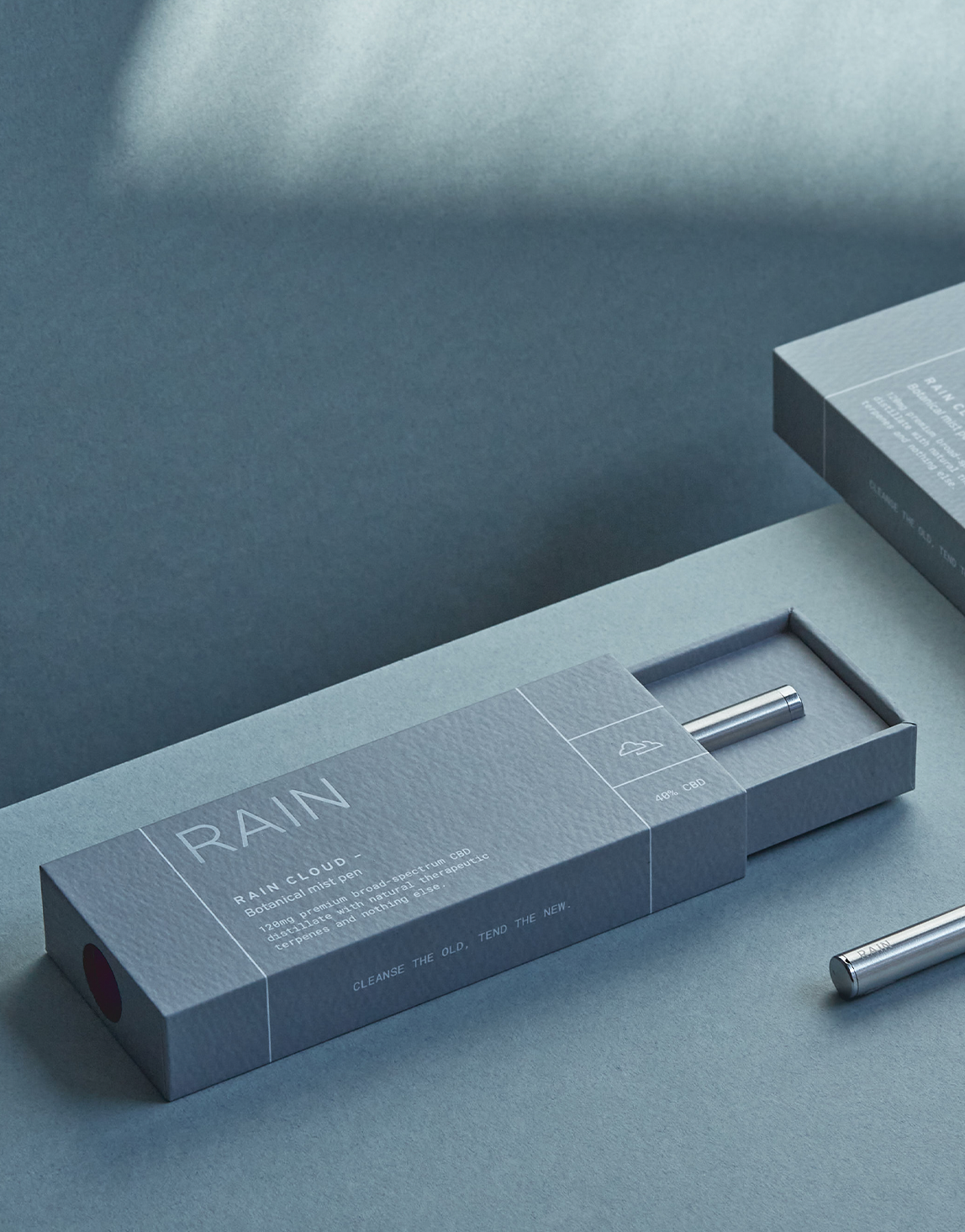 CBD 101
CBD stands for Cannabidiol. Cannabidiol is just one of over a hundred cannabinoids, as well as other botanical compounds, to be found in the cannabis plant. 'Hemp' refers to the cannabis plant strain from which we derive CBD as the primary ingredient of RAIN products. Want to learn more about CBD and it's benefits? Scroll to the top of this page to the 'CBD FAQ' tab for all you need to know.